In this blog, we'll compare the Lead-Lined Preparation Enclosure Cabinet with the Lead-Lined Decay and Storage Cabinet. Let's begin!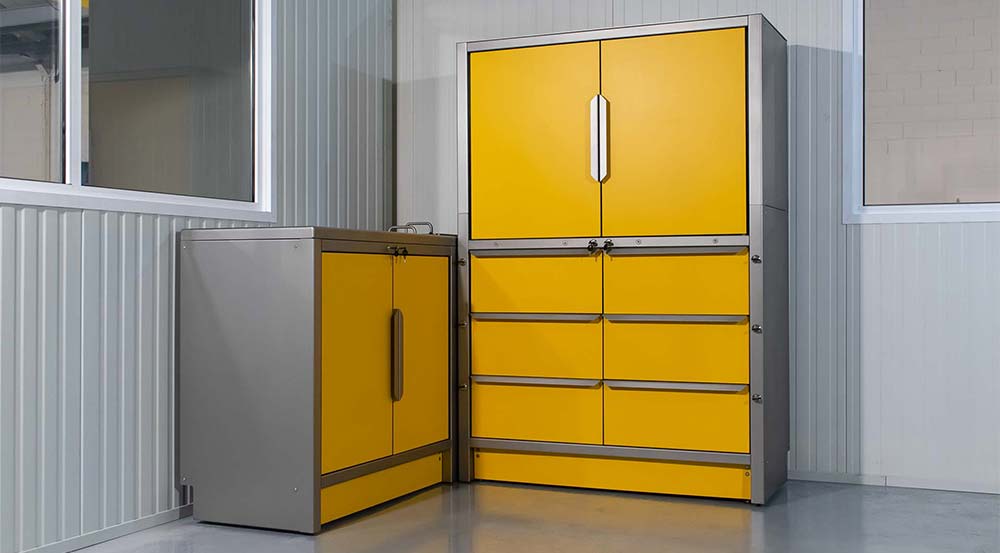 Cabinet with Lead-Lined Preparation Enclosure
The lead-lined preparation enclosure is supported by this cabinet. A 100-pound-capable shelf is accessible behind, overlapping double doors secured by a key lock. Storage and deterioration are both possible uses for the cabinet.
Designed for radioactive materials with gas, the Cabinet with Lead-Lined Preparation Enclosure is the ideal solution. There is a lot of room inside. Unhindered viewing is made possible thanks to a wide lead-glass window and fluorescent lighting. The aperture of the enclosure features a movable shield that provides ports of entry. When not in use, the ports are protected by a swing-down shield.
Counter-mounted and built to sit atop the Preparation Enclosure Cabinet, the.25″ lead-shielded Preparation Enclosure is available. The hood's entrance includes a 12″ wide shield with.5″ lead shielding that may be adjusted.
A baffle eliminates dead space by directing gaseous materials via a stainless steel chimney. External blowers (not provided) and ducting are attached to the chimney (not supplied). The blowers prevent gas leaks by creating a negative pressure.
Cabinet for Lead-Lined Decay and Storage
The Cabinet of Decay and Storage has two purposes. Drawers are the best places to keep them for radioisotopes, whereas cupboards are for decaying materials.
For cleaning and disinfection, drawers may be readily removed. A couple of heavy adjustable shelves are included in the deterioration portion. The specification is as follows:
It works for both decay and storage.
Degrading material may be stored in the lower cabinets, while radioisotopes are housed above.
Drawers can be easily removed for cleaning and disinfecting.
The deterioration part has two solid, powerful shelves that can be adjusted.
Size: 36.5″ wide by 24″ long by 36.5″ high (92.7 x 61 x 92.7 cm)
It is recommended that all six sides have a lead thickness of.25″ (6.4 cm),.5″ (1.3 cm), or 1″ (2.5 cm).
Key-locked doors and drawers
Stainless steel with a 4-inch backsplash and a 0.25-inch spill-proof lip on the countertop
A powder-coated finish is available.
Final Thoughts
Radiation protection systems use lead because it has long been shown to be particularly effective in shielding workers from many types of radiation. With the goal of educating the general public about the radiation shielding qualities of lead-d goods, you can contact us for your customized lead-lined cabinets.
As with any radiation protection project, it is imperative that you work with an expert in the field to ensure that your shielding system is safe.